Cold Weather Has Arrived – We only Service the Brands we Sell!
Once cold weather arrives everyone will begin to turn up their thermostats and fire up their gas logs for the first time!  The first thing they will smell, is the smell of dirt and dust that is burning off from not being in use since last winter. In most cases everything works well, but in some cases your gas logs will not work properly. We have for the last 49 years offered a service call to maintain your Gas Logs, Gas Wall and Gas floor Heaters. Actually we started the first of September for so many of our customers doing yearly maintenance and lighting pilot lights, so they would be ready for the cooler weather.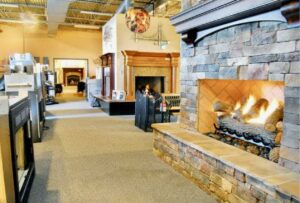 There are so many manufacturers in our market place, these are the brands that we sell and service.
Empire Comfort Systems, R.H. Peterson Company, Superior and Travis Industries.
 Our team of Service Technicians and Installers are trained on these manufacturers. Plus, we will have most of the parts in stock to keep your products operating properly. To locate a dealer for the manufacturers we do not service, just Google the manufacturers website, click on find a dealer and enter your zip code. A list of local dealer will appear. If you are unable to locate a local dealer, you might contact your local utilities company for assistance. If you think your product needs replacement, please visit our showroom and we will be happy to show you a variety of gas products that would work for replacement. Please change your batteries in your remote control and in the transmitter in your fireplace with your gas logs. Sometimes, it's just needs a new battery!
Don't Forget to Change Your Batteries…..
🔥🔥🔥🔥🔥🔥🔥🔥🔥🔥🔥🔥🔥🔥🔥
Mark your calendars to help raise money for The Tyler Poteete Benefit ❤️
(Thank You – Thank You So Much For Your Support- We Raised $68,000.00 For Tyler's Rehabilitation !)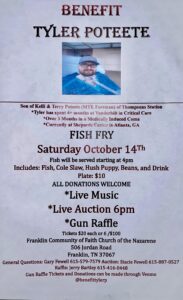 Please Join Us Saturday, October 14, 2023.
🍁🎃🍁🎃🍁🎃🍁🎃🍁🎃🍁🎃🍁🎃🍁🎃🍁🎃🍁 If you are looking to purchase a new propane gas grill. We donated this Awesome Made in the USA grill by MHP. You will be able to bid on Saturday, October 14th at The Benefit for Tyler Poteete, Plus, So Many additional donations as well. Please consider attending this great event. Plus, a delicious dinner will be served for $10.00, All donations are welcome.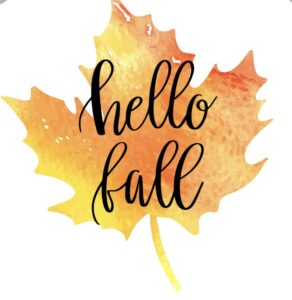 Fall weather has arrived with cool mornings and chilly nights. The farmers Almanac is predicting a cold winter in Tennessee. During the month of October we have several brands of Gas Logs on sale. The earlier you choose your new or replacement gas logs, the sooner we can get you scheduled for installation. Our own in house teams of Installers are already getting busy with installation of Fireboxes, Linear Fireplaces and Gas Logs. And of course running gas lines to create your new Gas Fireplace.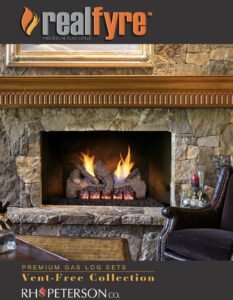 All in stock Real Fyre Vented and Vent Free Gas Logs are on sale with an additional 20% off during the month of October.  Real Fyre has been creating the most beautiful and elegant gas Fire products you can purchase. Their gas logs are so authentic looking, they're equally beautiful with or without the fire burning. Each gas log is skillfully hand-painted for a unique appearance. R.H.Peterson – Real Fyre constructs these logs using the highest quality refractory ceramic. Proudly Made in the USA 🇺🇸 for over 70 plus years. Starting October 1, 2023 through December 31, 2023, RH Peterson is thrilled to kickoff the new Fall-Into-Winter promotion for Real Fyre Gas Logs! When you purchase vented or vent free gas logs and burner WITH REMOTE, by Real Fyre can submit their receipt for the choice of a $50.00 Gift Card from Visa or Amazon. Some restrictions do apply.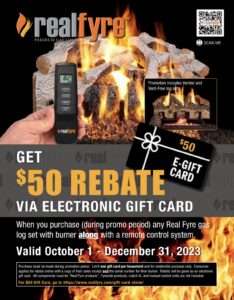 Please visit our showroom to see All our Gas Logs Burning Live, this makes choosing your new Gas Logs so much easier. All our logs are available in Natural and Propane gas.

Make sure to bring your fireplace measurements, height, width, depth and back wall width if it tapers. 📏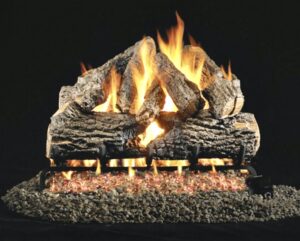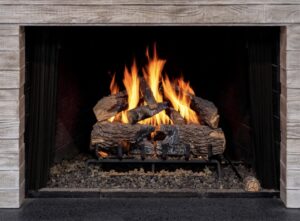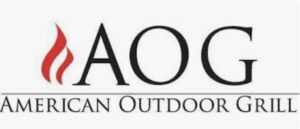 All in stock Fire Magic and AOG gas grills available in Natural or Propane gas are on sale with an additional 30% off, this includes portable grills, outdoor Grill Islands, Accessories, refrigerators and stainless steel drawers. If they are in stock they are on sale. Shop early for the best selection.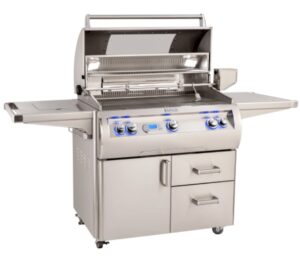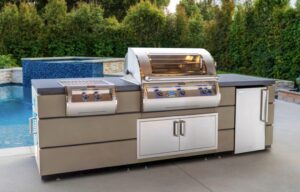 Fire Magic Pizza Oven ❤️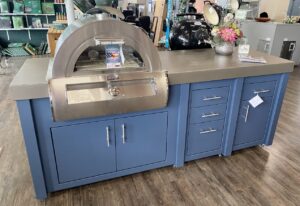 The Perfect Outdoor Fire Design….
I just love ❤️ gathering around our American Fyre Designs fire pit. With just the push of a button, we have a beautiful and cozy fire to stay warm and cozy. And so easy and convenient to operate. Available with Natural or Propane gas.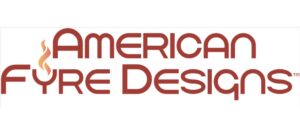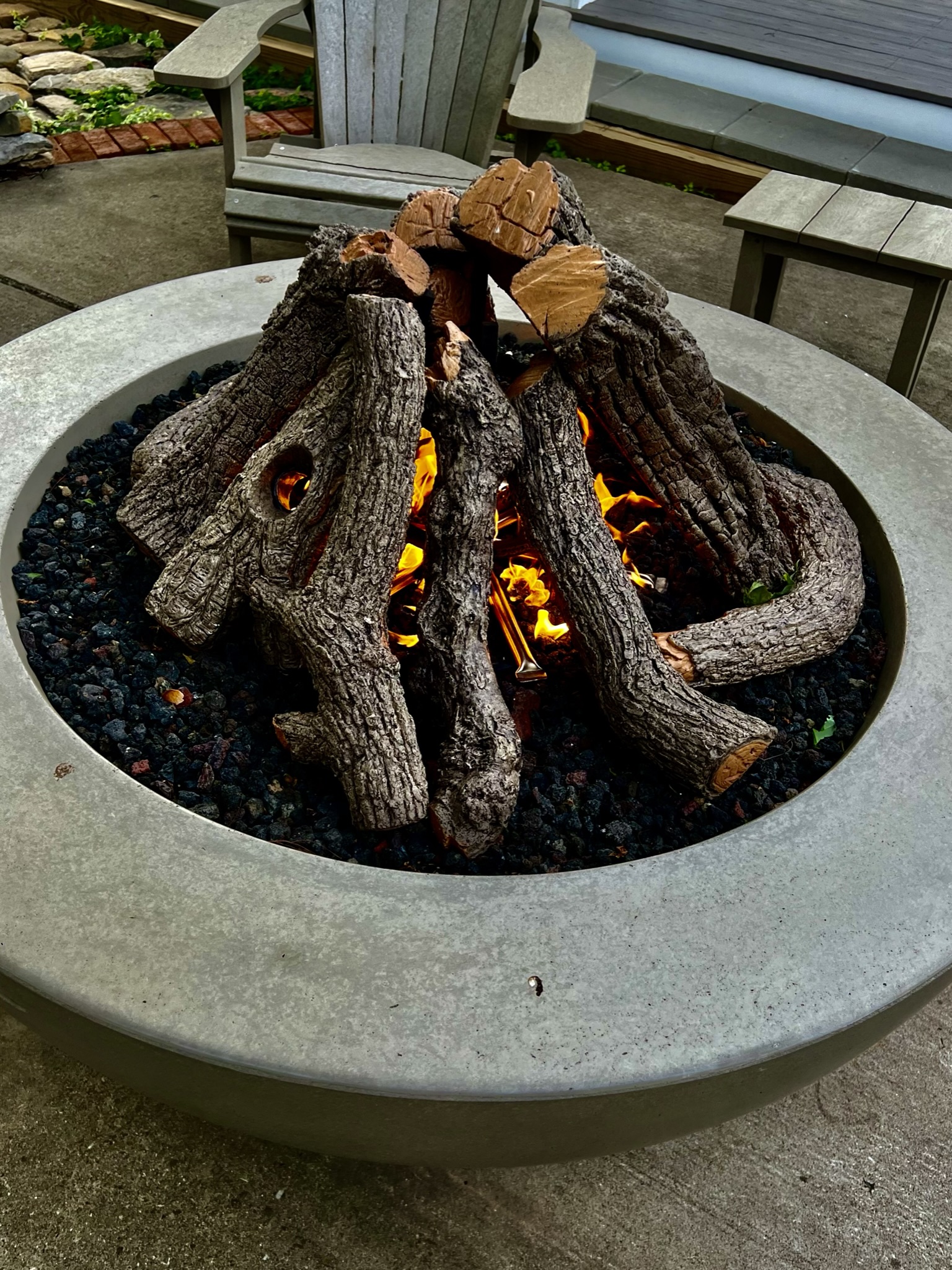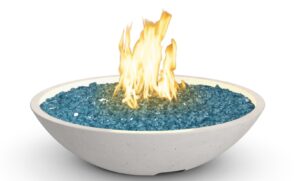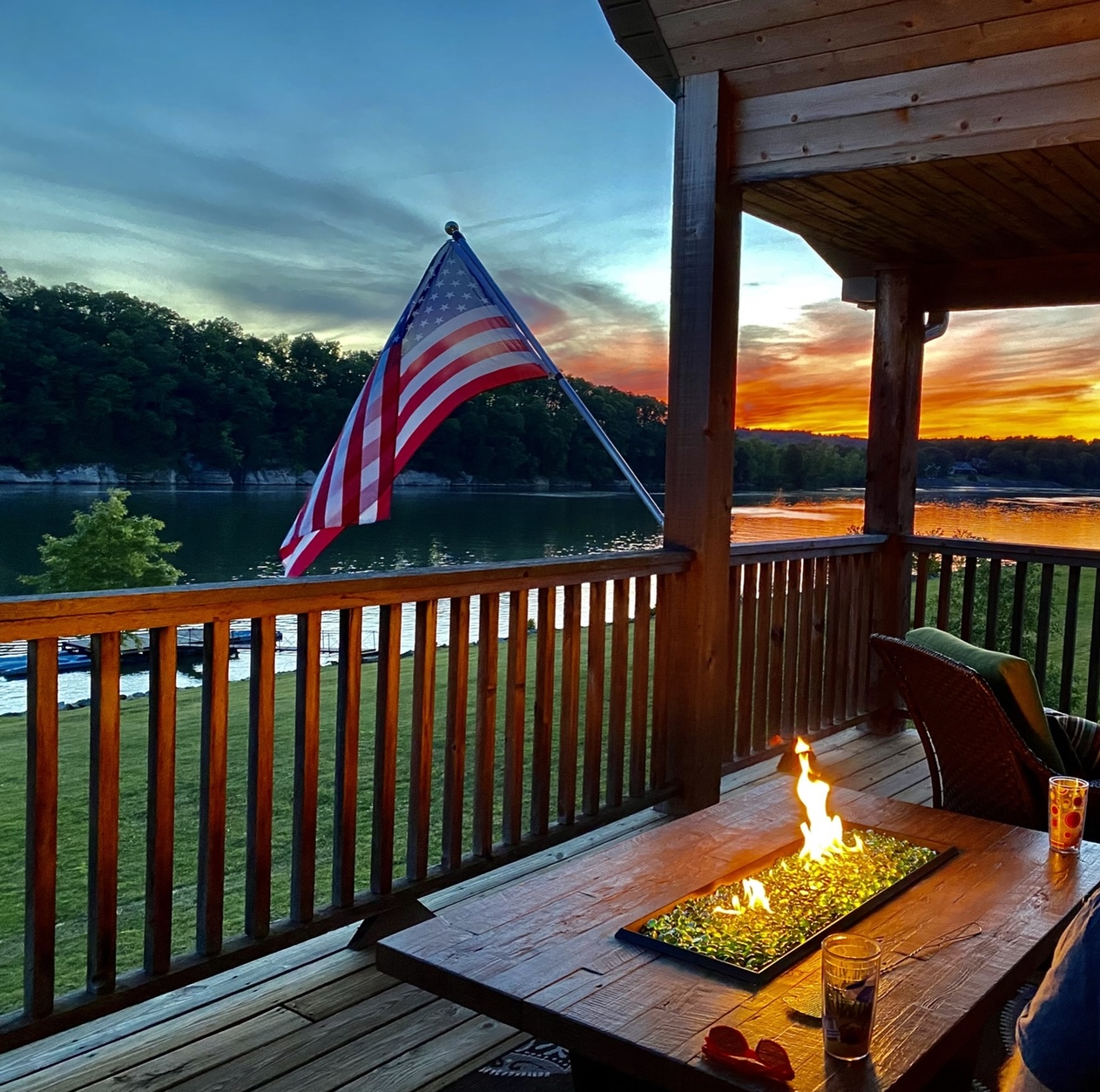 We currently have some in stock, or we can custom order the perfect style for your home or business. We have installed several of these In our local apartment complex's and on roof tops in Downtown Nashville.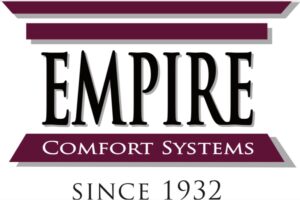 All in stock White Mountain Hearth vent free gas logs are also on sale during the month of October with an additional 20% off. From the curve of each log to the height of the stack, your White Mountain Hearth Log Set completes the burner  pattern for a lifelike Fire. Complete the illusion with one of the optional Ember Bed kits and Platinum Glowing Embers. White Mountain Hearth Vent -Free log set creates a consistent, controlled heat without dangerous flare-ups or chilling die-downs. These  gas logs warm your room quickly and efficiently, while using about half the energy of a vented gas log. We have a variety of sizes and styles for you to view burning live. Just bring your measurements of your current fireplace area. Or if you are building your new home, bring your blue prints with the items you will need.  As the colder weather gets closer, we start to get really busy. Please put us at the top of your list so we can get your products installed before the heavy winter weather arrives.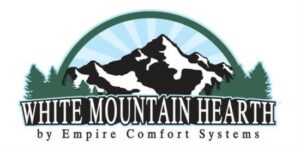 White Mountain Hearth VF Gas Logs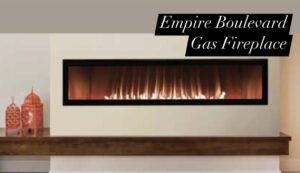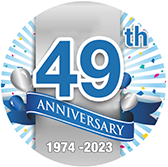 When you visit our showroom, you will be able to view a variety of Vented and Vent Free Gas Logs, Gas Stoves, Wood Stoves, Direct Vent Fireplaces, Electric Fireplaces, Free Standing Fireplaces, Mantels, Fireplace Accessories, Outdoor Furniture, Outdoor Kitchens, Gas Grills, Grill Islands, Smokers, Custom Stoll Fireplace Doors, and So Much More. We have the largest showroom in the southeast that offers so many products under one roof.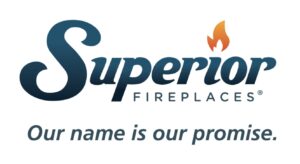 All in stock Superior Vent Free Gas Logs are on Clearance during October. Since these are on Clearance not all sizes or styles are in stock. Please bring your fireplace measurements, this is a great time to purchase vent free gas logs by Superior at tremendous savings. All in-stock Superior Vent Free Gas Logs are 40% off suggested retail.
Schedule Your Yearly Service Call 📞 
If you purchased your Vent Free gas logs from our store. We provide a yearly service call to maintain your gas products. Please call 615-255-4551 to schedule your yearly maintenance.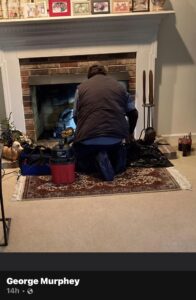 I love when our customers send pictures of our Awesome Service Department working on their gas logs. Thank You George ❤️
Remember to change your batteries in your remote control and in the transmitter in your fireplace.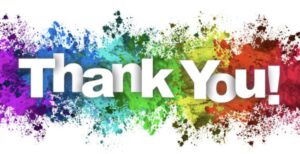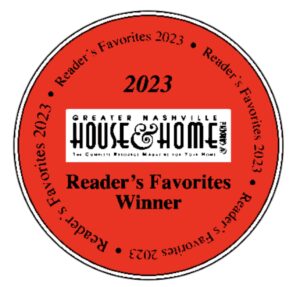 Wood Stoves and Grates!
We have started changing our showroom to display all our winter products, we just received some Wood Burning  Stoves from Travis Industries and our Stoll Fireplace Grates. These items sell out fast, so if you are looking to add a new wood grate or wood stove, please visit our showroom.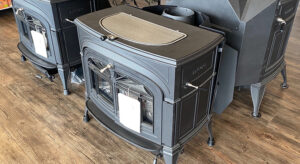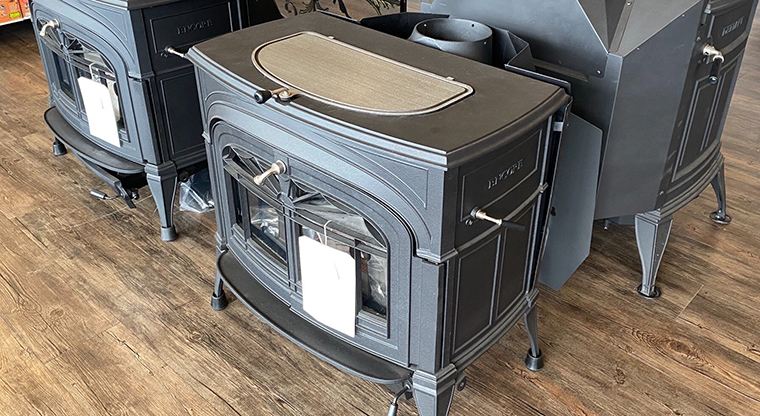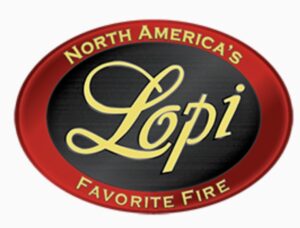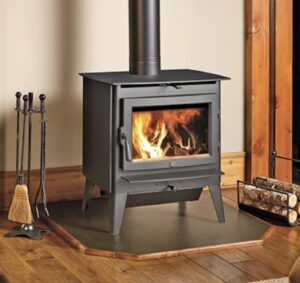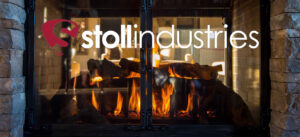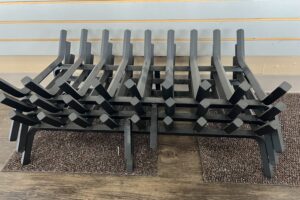 Please visit our showroom to see your next Fireplace, Outdoor Kitchen, Mantel, Wood Stove. We carry So Many Products, this is why we have Proudly Served the Nashville and surrounding cities for over 49 years. Thank You for shopping local and family owned!