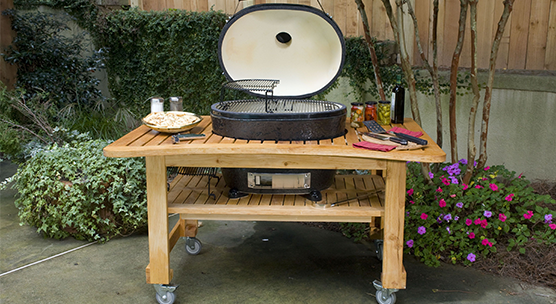 ---
About Primo Ceramic Grills
Primo is the Only Ceramic Grill Made in the USA. 4 out of 5 Americans prefer products made in the USA, so it's easy to see why Primo is one of the most popular grills over its imported counterparts.
Patented Oval Design. The unique oval shape offers exceptional cooking efficiency and true twozone cooking. Two distinct cooking zones allows you to grill and roast simultaneously. Round ceramic grill companies can make the claim, but Primo is the only one that delivers.
---
Grill, Bake, Roast, or Smoke All on the Same "Grill". Primo ceramic grills work like a grill, an oven, a roaster, and a smoker. Simply choose a cooking configuration to meet your needs and cook any recipe...from steaks to bread to beef brisket.
Primo Offers Amazing Flavor. The combination of the ceramic shell and 100% natural lump charcoal creates juicier food and true wood-fired flavor. Enjoy mouthwatering and delicious food that gas and metal grills just can't offer.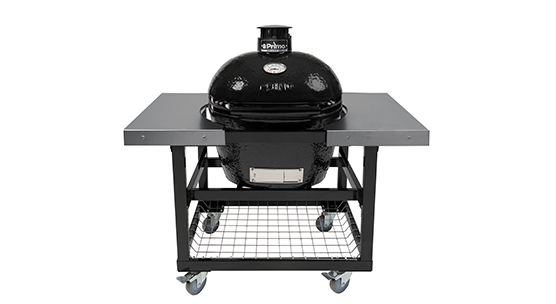 ---
Primo Oval LG 300
The Primo Oval LG 300 is perfect for cooking "large" amounts of food. Grill, bake, roast or smoke any food and increase your cooking area with our extended rack system. Features include a cast iron top vent, easy-to-read thermometer, reversible cooking grates, and a stainless steel draft door.
Available as "grill only", optional Primo Cart with Basket & One Piece Island Top with two cup holders (shown right) or any of our other Oval Large grill table models and carts.
Featured Primo Ceramic Grills Products
The Hearth & Grill Shop arrived promptly, did a thorough job of cleaning the complete fireplace, disassembling, vacuuming, reassembling, and replacing the glowing embers. The serviceman was very personable, patient, knowledgeable, conscientious and determined to do a good job. In the future, I will depend on The Hearth & Grill Shop for any and all of my fireplace needs.
Sign-up for

Special Offers,

News & More!