AOG Grills, 24NBT, 24X18″ Built-In Grill, Without Lights, Rapid Light Ign., w/Optional Backburner & Rotis, No Power Required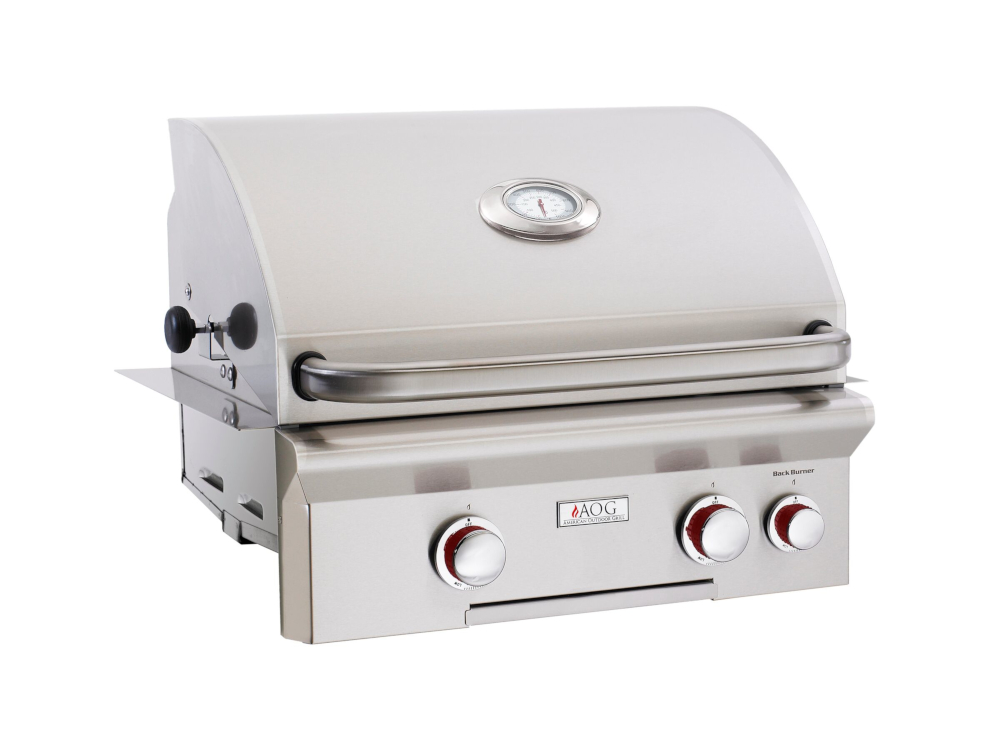 AOG Grills, 24NBT, 24X18″ Built-In Grill, Without Lights, Rapid Light Ign., w/Optional Backburner & Rotis, No Power Required
The AOG 24NBT Built-In Grill is a powerful, simplified-feature grill that will compliment your outdoor kitchen design. Its construction is composed of 304 food service grade Stainless Steel (not low grade 430 like you find at the box-stores) that's as durable as it is stylish. High quality solid brass control valves, 1000 degree analog temperature gauge, and super tough stainless cook grids. With the optional 10K BTU rear-burner and rotisserie, it can tackle a variety of flavorful tasks! With 432 square inches of hot primary cook surface, and 32K BTUs it can accommodate cooking for groups of 2-8 with ease. Available with or without rotisserie, it's also available in 30″ and 36″ sizes. This series has a "Rapid Light" ignition system that doesn't require batteries. MADE IN THE USA! **All Built-in Grills arrive as Natural Gas, but are convertible to LP with included orifices and regulator. ***Regulator hose and cylinder not included.
Details
AOG GRILLSAmerican Outdoor Grill, or AOG, is designed and manufactured by the same American company that brings you Fire Magic® Premium Grills, American Fyre Designs, and legendary Real-Fyre products. An AOG adds style and high performance to your outdoor kitchen. Special moments like a family barbecue or a celebration with friends and neighbors are made even more so with an American Outdoor Grill. AOG is made of the finest commercial-grade (304) stainless steel and features a large cooking surface with Diamond Sear stainless steel cooking grids. High BTU capacity allows for high searing temperatures, while an optional recessed back burner, spit rod and motor permits slow, rotisserie cooking. An available side burner is perfect for side dishes or preparing that special sauce. Create your entire meal on the versatile American Outdoor Grill!
View Our Products
We are a hearth and grill specialty store, with the largest showroom in the southeast. We would love for you to visit our showroom. If you need additional information on gas logs, fire boxes, fireplaces, wood stoves, grills, smokers, outdoor kitchens, gas lighting, grilling seasonings or accessories, please contact us below, one of our sales representatives will be happy to assist you. Thank you!
---