RH Peterson, Real Fyre, Foothill Split Oak, G19A Vent-Free Logs and Burner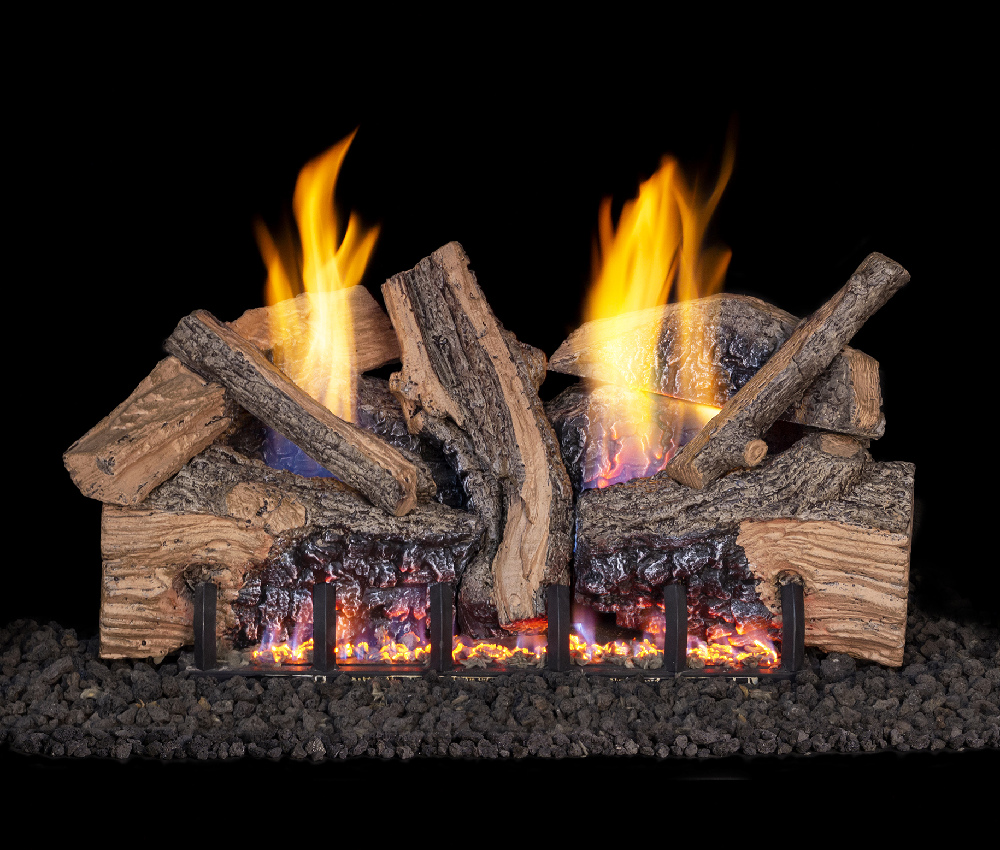 RH Peterson, Real Fyre, Foothill Split Oak, G19A Vent-Free Logs and Burner
The Foothill Split Oak is a new option featuring the latest technological innovation from the leaders in gas logs, Real Fyre! The all new G19A vent-free burner is a clean burning system with a dazzling flame pattern. There are two highly detailed log set designs to choose from. The ember burner at the front enhances the look, and realism of the system. Real Fyre gas log sets have always offered the highest quality available on the market, hand crafted in Southern California by R. H. Peterson, since 1949. The G19 Vent Free burner series offers 3 sizes 18, 24, and 30 inch. Choose between a standard On/Off remote control system with manual variable valve, (Wall switch compatible, also upgradeable to T'Stat), a variable flame height remote, or an all-in-one Electronic Ignition system with Variable T'Stat remote control included. They come with everything you need to complete your installation except wrenches, and thread sealant. Flex connector, both ember components (Bryte Coals, and standard embers), 5lb lava granules, batteries (on remote controlled units) are in the FIREBOX. If you have questions about which burner system/log type is right for you, give us a call at 615-255-4551. A HOOD IS TYPICALLY REQUIRED to prevent damage or fire hazards, on any vent free applications into fireboxes that don't already have an integrated hood.** PLEASE NOTE SEVERAL BURNERS AND GAS LOG SETS ARE ON BACK ORDER FOR 12- 15 WEEKS, DUE TO THE STATE CLOSING THE MANUFACTURES DOWN DURING COVID -19.
Details
In 1949 Robert H. (Bob) Peterson invented gas logs as we know them today. Today the RH Peterson Company still proudly offers top of the line Real Fyre gas products. From hyper-realistic Vented logs, to artfully crafted Vent Free logs, to Direct Vent gas inserts, their products are the finest available anywhere.
View Our Products
We are a hearth and grill specialty store, with the largest showroom in the southeast. We would love for you to visit our showroom. If you need additional information on gas logs, fire boxes, fireplaces, wood stoves, grills, smokers, outdoor kitchens, gas lighting, grilling seasonings or accessories, please contact us below, one of our sales representatives will be happy to assist you. Thank you!
---