🇺🇸 Get Your Grill or Smoker For Labor Day Cookouts! 🇺🇸
All In Stock Grills and Smokers are on sale until August 31, 2023. Still have one more week to take advantage of this Awesome Sale! Remember we offer Free Assembly and Free Local Delivery. Our Grills and Smokers are Proudly Made in the USA🇺🇸. So you Know they will last for many, many years.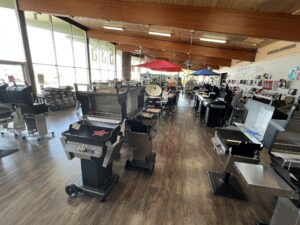 Check Out These New Sizzling Deals🔥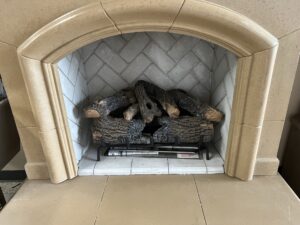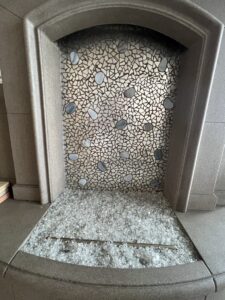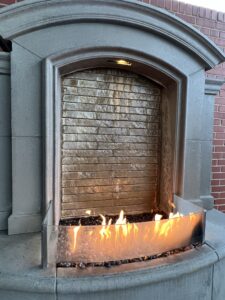 Add American Frye Designs to create that perfect backyard oasis for your home or business. These are available with fire, water and accent lighting. Or a perfect self contained vented natural gas fireplace for your back patio. These are ideal for our cool fall nights. Only have three in stock, call store for blowout pricing!
615-255-4551

Sizzling Summer Blowout Sale 🔥
August has arrived with some very Hot Temperatures in every part of our country. At least in our local area we still have some very pleasant evenings for gathering around the back patio grilling some delicious meals with your family and friends. I can't believe we are already in the month of August. Labor Day will be here before we know it! Grilling hamburgers, steaks, chicken, hot dogs and yummy desserts is something we can do all year long, even when our cold weather arrives. Now as the grilling season starts to come to an end, this is the perfect time to purchase your new Grill or Smoker. During the month of August all in-stock grills from MHP, Primo, AOG, Fire Magic, Smokin Brother's, Phoenix and TEC infrared are at Blowout Pricing. All these brands are manufactured in the USA 🇺🇸, And offer outstanding warranties. Plus, we offer Free Assembly and Free Local Delivery to all these areas in Nashville, (All of Davidson County), Brentwood, Franklin, Bellevue, Goodlettsville, Hendersonville, LaVergne, Old Hickory, and Smyrna. Installation and Service is also available from our in house teams of Installers and Service Technicians. We offer delivery within a 30 mile radius from our store in Nashville, if you are out of our local delivery area listed above, please ask our sales staff for pricing for your area. Usually runs from $40.00 up to $80.00 depending on the distance from our store.
🔥 Just a Few of our August Specials 

Visit our showroom to see all the Sizzling Summer Blowout Sale items going on during the month of August. You need to shop early for the best selection. On some grills, we just have a couple left in our inventory. And once they are gone, they are gone for the season.
Super Deal on Propane Refill…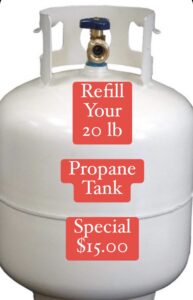 Get your 20 lb propane tank refilled for just $15.00 including tax. Just in time for your Labor Day cookouts. Or stock up for your outdoor propane Fire-pits and Patio Heaters! Cold weather will be here before you know it.
Primo Hard Lump Charcoal on Special….$19.95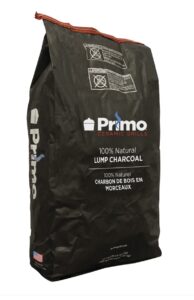 Free Stainless Steel Griddle with Fire Magic or AOG Grills
Some of the best Chocolate Chip cookies Ever… we love cooking on our Gourmet Griddle. Try doing some fresh vegetables or fajitas, they are Amazing 🤩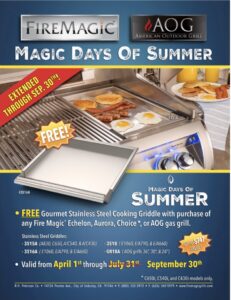 Our USA Grill Brands 🇺🇸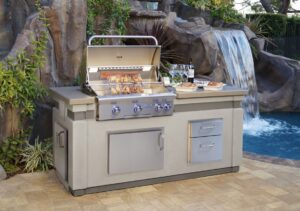 Available Free Standing, Grill Island or on a Patio Post. With either Natural Or Propane Gas.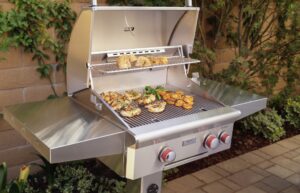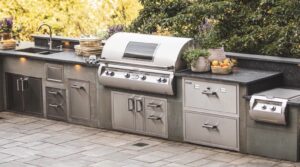 Fire Magic is manufactured by The R.H.Peterson Company, these grills along with AOG Grills are Made in the USA. They offer So many options for your grilling needs. Both these grills create an outstanding Outdoor Kitchen. They are available with Natural or Propane gas, Freestanding, Patio post or on a stainless steel cart. Plus, you will receive a Free Stainless Steel Gourmet Griddle with your purchase. Values up to $749.00 depending on the size of you grill. R.H.Peterson has extended the free Gourmet Griddle through September 30,2023.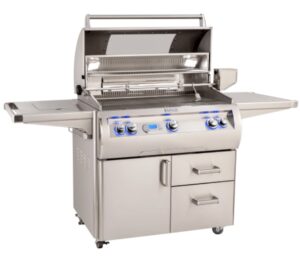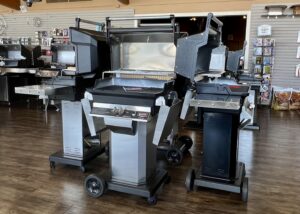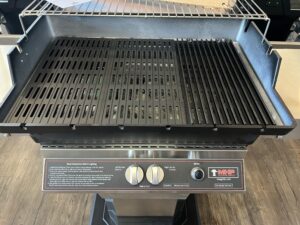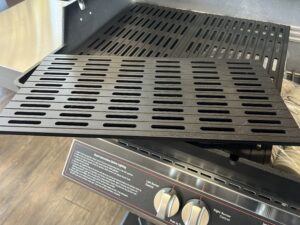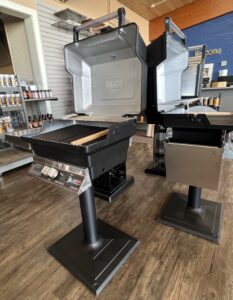 MHP grills, also known as Modern Home Products, was the First Gas Grill on the market. They introduced a round style grill back in the 60's. And finally in 1964, they created a rectangular painted steel gas grill with a hinged lid. Now MHP has a variety of grills in Natural and Propane Gas, including the Phoenix gas grills. So many styles from freestanding, patio post and grill heads for outdoor kitchens.  Side burners, stainless steel cooking grids, Sear Magic Cooking grids, infrared – Roast rotisserie Burner system, adjustable side shelves and so much more. We currently have several of these grills in stock so you can compare which design works best for your grilling needs.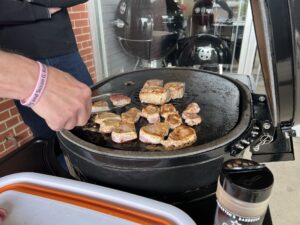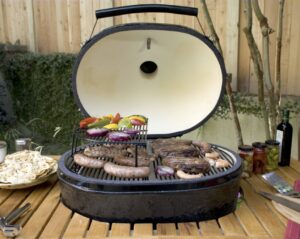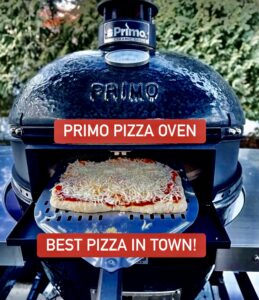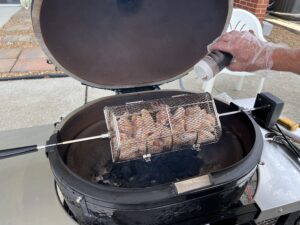 Primo Ceramic Grills offer Grilling, Searing, Roasting, Baking and Smoking when you are cooking for just two or a group. You are able to adjust the temperatures to whatever you are cooking for dinner. Plus, they just created this cool pizza oven, that makes some of the best homemade pizza in the neighborhood. Primo is constantly working on finding better ways to grill on your Primo Ceramic Grills.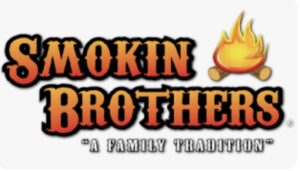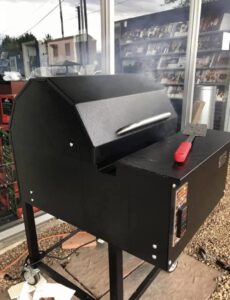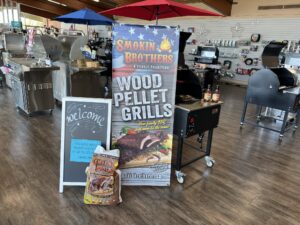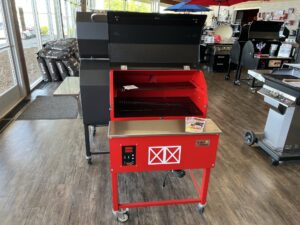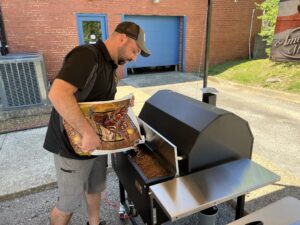 Smokin Brothers Wood Pellet Grills, are truly American made in Southeast Missouri in the Smokin Brothers Family Factory. Simply the best cooking pellet grill on the market. When you pickup the hood, it is so heavy, unknown it's going to perform for many years. We just have a couple of these grills in stock, so shop early if you wanting a Smokin Brothers Pellet grill on sale.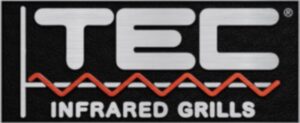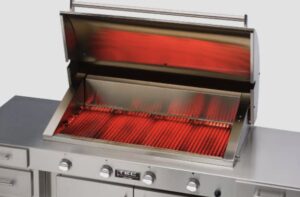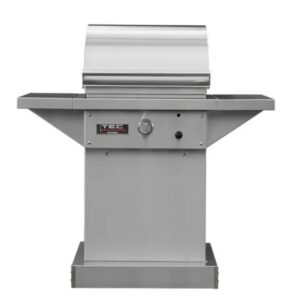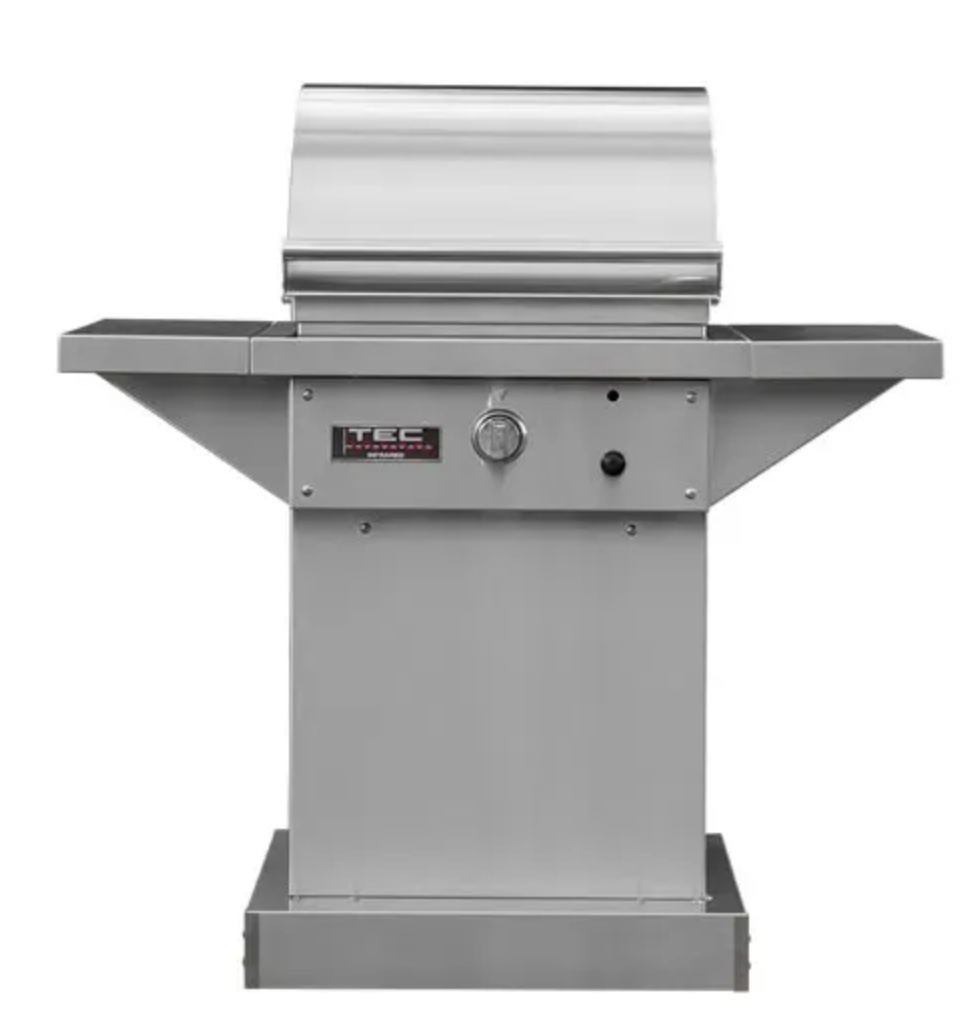 Over Forty years ago TEC Grills created the infrared grill. It was in a league of its own. No other grill could get as hot as TEC could at 900 degrees for really searing your steaks, plus be capable of turning down to an ultra-low 200 degrees, the perfect temp for slow cooking a pork shoulder or smoking ribs. If you are looking for a TEC grill, this is the perfect time to purchase this grill. Just a few are in stock and on sale during August.
Add some yummy seasoning's 😋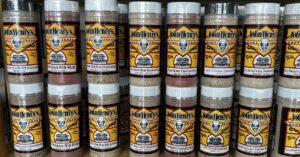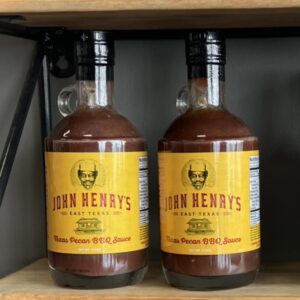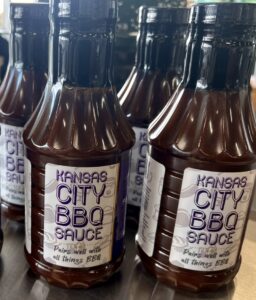 As you can see we have a large variety of grills, with so many options. Now before the summer comes to a close, visit our showroom to find the perfect grill or smoker for your grilling needs. And make sure to checkout all our seasonings and sauces to add that delicious flavor for your perfect cookout!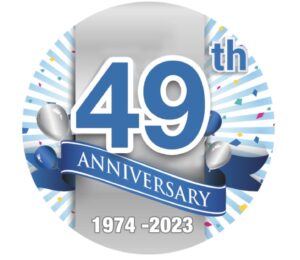 Thank You for Shopping Local and Family Owned Since 1974….
Everyone at The Hearth and Grill Shop, Thank You for always choosing us as your Fireplace and Grilling Store. When we opened our doors 49 years ago, we just had a couple of grills and a few sets of Gas Logs. Now we have the Largest Showroom in the Southeast with over 45 Fireplaces Burning Live, making it so easy and convenient to see which it the perfect style for your home or business. Plus, we carry over nine grill brands with so many choices. We have our own in house teams of Trained Service Technicians and  Installation teams ready to install and service your products.