The Perfect Time For A New Grill for July 4th Cookouts!

Let's Get You Ready For Some Grilling on Father's Day!
During the month of June All A.O.G. and Fire Magic Gas Grills are on Sale…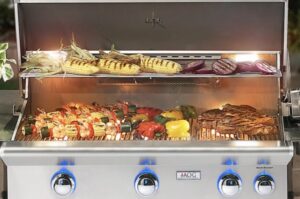 Join Us June 9th & 10th Live Grilling Demos – 10:00 a.m. – 2:00 p.m.🔥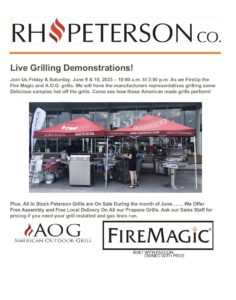 Thank You To Everyone That Stopped By this Weekend 😊
As we get ready to kickoff summer time grilling, what better way to see which grill will be the perfect fit for your family.  We offer So Many choices at The Hearth and Grill Shop, mark your calendars for Friday and Saturday, June
9th 
and
10th 
 from
10:00 a.m. til 2:00 p.m. 
We will have the A.O.G. and Fire Magic grills Fired Up with the R.H.Peterson representatives showing you how to grill so many things on these Awesome American made grills. Plus, you can taste some yummy samples Hot off the grills! A few pictures from our Grilling Event June 9th & 10th, 2023.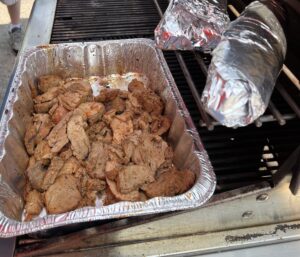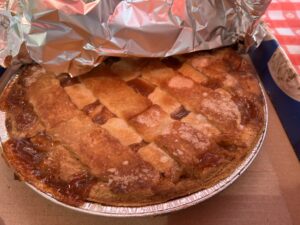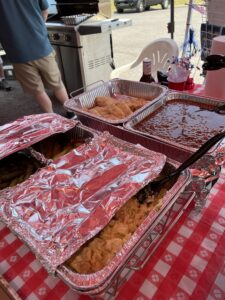 We Hope you enjoyed all the Delicious Samples. I loved the Apple Pie ❤️

Free Cooking Griddle on Select Fire Magic & AOG Grills!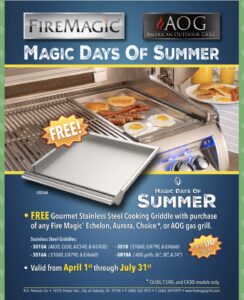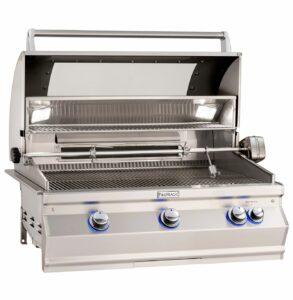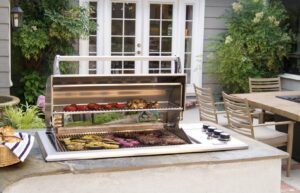 Why we Love Fire Magic Grills, they really are Very Durable!


At our vacation home on the Tennessee River, we had just delivered our new Fire Magic grill for Christmas in 2018. We had a wonderful family gathering, grilling some amazing steaks, pork chops, potatoes, vegetables and even some Christmas cookies.  Since we were new to River life, we just left the grill downstairs in our two car garage. Well on New Years Eve the waters started rising real fast. We had to be rescued by the local sheriff department.
Apparently, when the river rises the access roads get covered for weeks at a time. In the past five year's we have learned how to live on a River. You have to watch the River charts daily when rain is coming. At that time, we did not know what a River chart was! And in February 2019 Tennessee experienced the 500 year flood, along the Tennessee River, thousands of home were destroyed or damaged.
Our home that we purchased just 6 months prior was now under 11.5 feet of water. Our boat, all our patio furniture and Everything in our garages were destroyed or floated down the river. Some things we found in trees. After 3 1/2 weeks the river waters started to recede. Finally in March everyone was allowed back in to their property to see what was left.
This was so heartbreaking, we had all our sons and grandchildren shoveling mud, cutting up huge trees, cleaning up for days and weeks to come. Well, our Fire Magic grill was stuck under our boat in the corner. It looked good except for all the mud and slim from the river. So I had the boys pull it out and place on the back patio. My husband said it's gone, I said let's just see if we can clean it up. Well after a two day project of cleaning all the river mud and hosing it down again and again. Ricky hooked the propane tank to the Fire Magic grill… well we all were surprised. It fired right up, we plugged it in to the generator and everything was working without a hitch, the lights, the rotisserie and even our infrared back burners. Well, I sent the before and after video to the owners of R.H.Peterson, they were even amazed the grill was working so well.
So we brought this grill back to the store so our service technicians could properly get it cleaned and now we have it at our main home. Grilling some of the best hamburgers ever! We decided to take a smaller grill to the river and we keep this one upstairs on the deck, just in case the Tennessee River decides to rise again.  See some of the pictures below:

River starting to recede after 3 weeks!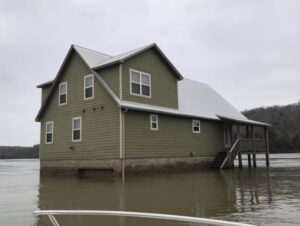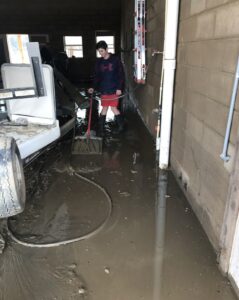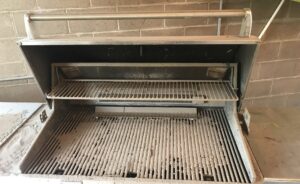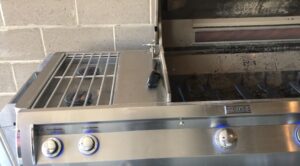 Now It's Working Perfectly 😊

Fire Magic brings out the best in your Grilling….
Family owned and crafted in America, Fire Magic is the name trusted by true grilling enthusiasts for over 80 plus years. With an extensive product line, versatile cooking options, enhanced durability and superior design innovations, Fire Magic is the finest performing grill on the market and a shining centerpiece for a lifetime of special moments with family and friends.
Beautifully Designed, Bullet Proof Tough.
Fire Magic grills are constructed entirely with the finest quality, heavy-gauge 304 stainless steel with unsurpassed attention to the most precise detail in design and construction, Fire Magic grills are the most elegant and durable barbecue grills available. They are engineered to perform at the highest temperature for the longest time of any outdoor barbecue grill. With exclusive advanced heat distribution system, searing options, smoking capability, rotisserie, and charcoal grilling features allow you to grill any meal imaginable with ease and exceptional results. 
Fire Magic will keep you grilling and the neighbors talking for years to come.
New Fire Magic Pizza Oven!
The New Pizza Oven by Fire Magic is now available at The Hearth and Grill Shop in Nashville. Available installed in a grill island, freestanding or Outdoor Kitchen.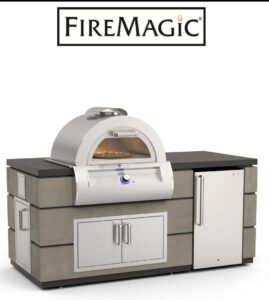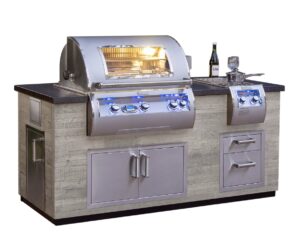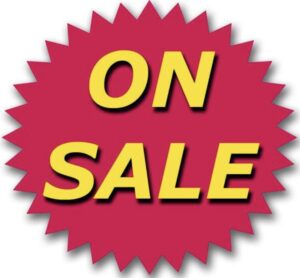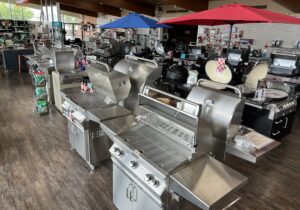 Designed and manufactured by the company that brings you Fire Magic Premium Grills, AOG grills add style and cooking excellence to your outdoor kitchen. Whether Built-In or Portable, you'll be delighted with the performance, Longevity, and appearance of your American Outdoor Grill. They feature Diamond Sear cooking grids, 304 stainless steel burners, vaporizer panels, heavy duty warming racks, built-in infrared back-burners, analog thermometer with polished bezel, seamless hood,  (L series) offers electronic ignition, back-lit knobs and on/off light control buttons.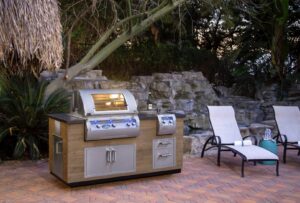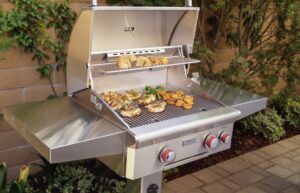 Home Of Free Assembly & Free Local Delivery….
We have proudly offered Free Assembly and Free Local Delivery on all our propane grills since we opened our doors in 1974. Installation is also available for your Outdoor Kitchens or free standing grills. Please ask your sales representative for pricing. We provide service in the Nashville area within 30 miles from our store.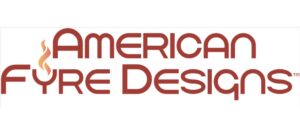 The R.H. Peterson Company proudly manufacturers all the American Fyre Designs as well as the Real Fyre Gas logs, AOG and Fire Magic Grills. We have offered these brands for over 49 Years. If you are looking to add a Fire Place, Fire Pit or Gas Logs to your home or business, we have a large variety to choose from. Please visit our showroom to see all your possibilities!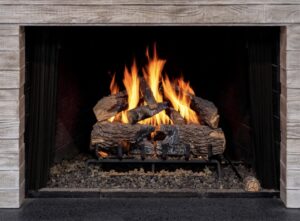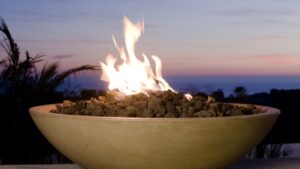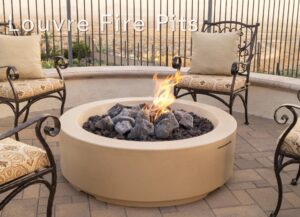 American Fyre Designs are available in Natural Gas or Propane Gas. Once you choose your outdoor Fire Design, we offer installation and service to keep your fire going for many years to come. Create the perfect outdoor oasis by adding beautiful rocks, gems or crushed glass to your fyre design.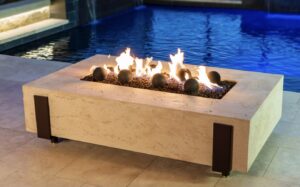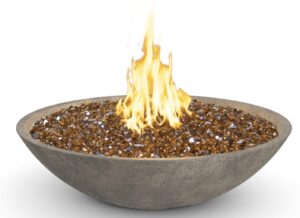 Add a Brooklyn Fireplace to create your outdoor oasis!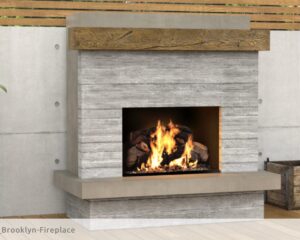 We are spotlighting the R.H.Peterson Company during the month of June. But, we also offer So many other brands of grills and smoker's from Weber, TEC Infrared, MHP, Phoenix, Primo Oval Ceramic Grills, Smokin Brothers Pellet Grills and The Big Green Eggs. Not to mention all the seasoning's and sauces from Big John Henry, Big Green Egg and Full Boar BBQ.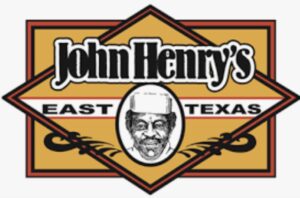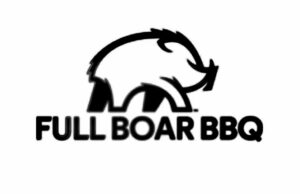 When you are viewing our website, you will notice we do not offer online shopping. We are a Hearth and Grill specialty store, our showroom is one of the largest showroom's in the Southeast. We have over 40 plus, fireplaces burning live in the back showroom. This has been something every customer has loved, they can see what their fireplace will look like before they make their purchase. In our front showroom we have during grilling season, all the grills, smokers and fire pits on display. ______________________________________________ I know when I am personally looking for something for my home, I want to see and touch the items I purchase for our family. I want to know exactly how they operate and what are the different options available. I may be old school, but I just do not like to purchase products online. When I have, there is always an issue. Shopping local and buying products made in the USA is the only way to shop! 🇺🇸 _______________________________________________ We provide Service for All the products we sell. Just this week, a customer visited our showroom, she had a gas grill on a patio post, well it fell over. We asked if she had the brand name or a picture, she did not. So we checked our computer for her home address, Luckily the previous owner had purchased this grill back in 2006. Now we have all the information to repair her grill, and the cost will be minimal compared to purchasing a new gas grill. _______________________________________________ Our grills should last at least 20 to 25 years if you make sure to maintain them throughout the years. This is why our store has been in business for over 49 years, we care about providing the best service and keeping your products working for many years.

Everyone at The Hearth and Grill Shop Thank You for supporting Our Local and Family Owned Business Since 1974.